Shwetha Srikanth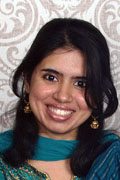 Training
M.A., Developmental Science, Florida International University, Major Professor: Dr. Pruden
Biography
Shwetha began working at PLSD in the Fall of 2011 as a graduate student. Shwetha graduated with a master's degree in Developmental Science (under the mentorship of Dr. Shannon Pruden) in the Summer of 2014. Shwetha's master's thesis was entitled, "Effects of family, child and teacher demographics on prekindergarten children's access to and use of numeracy and spatial materials in the early education setting." For her thesis she conducted an online survey with Miami-Dade preschool educators to examine whether they have access to and use numeracy and spatial activities and manipulatives in their classrooms. Her thesis findings suggest that most preschool educators have access to these materials, but vary considerably in their frequency of use in the classroom.
Shwetha is now pursuing a graduate degree in Counseling Psychology at Lehigh University in Pennsylvania where she lives with her husband and son.
Selected Publications
Srikanth, Shwetha, "Effects of Family, Child, and Teacher Demographics on Prekindergarten Children's Access to and Use of Numeracy and Spatial Materials in the Early Education Setting" (2013). FIU Electronic Theses and Dissertations. Paper 1443 http:/digitalcommons.fiu.eduetd/1443
Selected Presentations
Srikanth, S., Gonzalez, S., Costales, A., Herradon, N., & Pruden, S.M. (2013, November). Availability and use of early numeracy content in pre-kindergarten classrooms. Poster presented at annual conference of The Psychonomic Society, Toronto, Ontario, Canada.
Srikanth, S., Gonzalez, S., Costales, A., Herradon, N., & Pruden, S.M. (2013, October). The PreKindergarten Numeracy and Spatial Environment Survey: Evaluating the early education setting for numeracy and spatial materials. Poster presented at the biennial conference of the Cognitive Development Society (CDS), Memphis, TN.